Not only are dog toys fun for your pet, but they also serve several important functions. Bored dogs often become destructive dogs, chewing up anything from shoes to furniture and an assortment of toys keeps boredom at bay. Dog toys can also provide comfort and security to lonely and anxious pets and help keep your pup's teeth and gums healthy.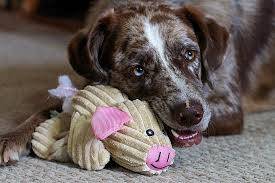 Just as children's toys serve different purposes, so do dog toys. And, just like children's toys, not all are created equal. Before purchasing dog toys, make sure you know what to look for in terms of materials, durability, safety, and suitability for your particular pet.
Safety First: Dog Toy Edition
The first question you should always ask before buying a dog toy is, "Is this safe for my dog?"
Here are some safety considerations to keep in mind:
Only buy toys that are appropriately sized for your pet; items that are too small are choking hazards.


If your pet tends to destroy squeaky toys, it may be because he's trying to destroy the source of the squeaking. Because the squeaker inside soft dog toys is a choking hazard, stick to plush animals without squeakers or squeaking toys that don't have removable squeakers.


Even if your dog does not usually try to remove the removable squeaker from plush toys, supervise the use of these toys just to be safe.


Has the toy been recalled? It can't hurt to do a quick search on sites like Consumer Affairs.


Only give your dog toys that have been specifically designed for dogs. Children's toys often contain small pieces (like plastic eyes, arms, legs, and shoes) that dogs can easily chew off and swallow.


Avoid toys that seem to be stuffed with "beanbag" textured filling. If your dog tears the toy open, he may ingest or aspirate the filling.


If you prefer edible toys for your pup, check the ingredients. Many rawhide chews are non-digestible and may cause choking or blockages. Your vet may recommend alternatives, such as horse, cattle, and pig hooves, ears, and knee bones; deer antlers; and specially formulated edible dental chews.

You should NEVER give your dog cooked bones! They can splinter and cause choking or internal damage. Knowing what foods and items to keep away from your dog is important.
Different
Toys for Different Dogs
Toys for Heavy Chewers
Some dogs are escape artists. Others won't stay off the furniture. And some chew anything and everything they can sink their teeth into. Some breeds, like boxers, American Staffordshire terriers (aka pit bulls), and German Shepherds, have strong jaws and are natural-born chewers. Other breeds, like Beagles, Australian Shepherds, Labrador Retrievers, and Golden Retrievers, tend to be highly intelligent, especially prone to boredom and tend to take their frustrations out by chewing.
For these breeds and other dogs (because there are always exceptions to the rules) prone to chewing, stick with hard-to-destroy rubber toys such as:
Nylabone's Dura Chew Combo Packs

Kong's Extreme Dog Toy
Strong rope toys, like Multipet's for Knots Heavy Duty Rope with Tug Dog Toy
Some dog toy makers such as West Paws Designs (check out its Jive Zogoflexc Durable Ball Dog Chew Toy) and Planet Dog (check out its Orbee-Tuff SnowBall) are so confident in the durability of their toys that they guarantee them. West Paws are one of our personal favorites because they come with a lifetime guarantee!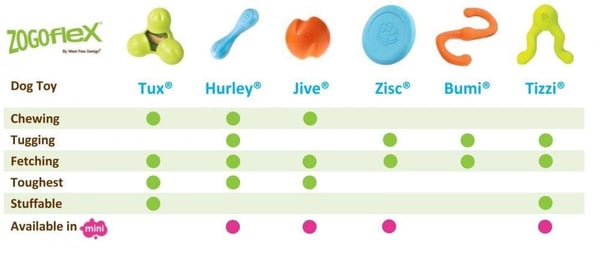 Another great option for heavy chewers are large natural chews (like knee bones and antlers). Unlike smaller natural edibles, these larger options typically provide hours of chew time for dogs. If you are in the Tucson area and have any questions about bones, stop by our bone bar location in Tucson.
Because boredom and heavy chewing often go hand in hand, consider placing a variety of options in a basket or bin so your pups can pick and choose.
Toys for Active Pups
Help active pups burn off energy with toys like:
Tennis balls, which you can send flying using a pet toy launcher like the Chuckit! Dog Ball Launcher

Frisbees
Boomerangs, like West Paw Design's Zogoflex Bumi
You can also buy a laser pet exerciser or a flashlight and have fun watching your pet chase the beam of light he'll desperately try to catch, but never will! Besides encouraging your dog to sprint and fetch, these toys encourage you to spend time bonding with your dog.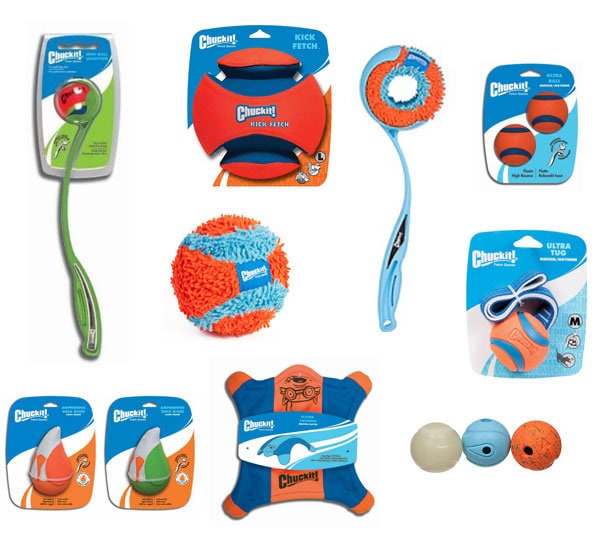 Distraction Toys for Dogs
Want to keep your dog distracted so he will stop barking, leave your guests alone, or nor succumb to separation anxiety?
Give them a challenge with puzzle toys that keep them busy trying to reach a reward! Dog toys like:
The KONG Classic and West Paw's Toppl Treat Toy that features a hole you can fill with a tempting but tough to reach treats like peanut butter or dog cookies.

Interactive automatic feeders that use a mobile phone app, you can program various puzzles for your dog to solve by pawing the touchpad to provide answers. Each time your dog answers correctly, the unit dispenses a treat.
Plush puzzle toys that motivate your dog to sniff out things, like a plush squeaky squirrel toy stuffed in the plush tree trunk.
Shuffle puzzles, like the Ethical Pet's Seek-A-Treat Shuffle Bone Puzzle toy that features six sliding disks over 10 holes hiding treats.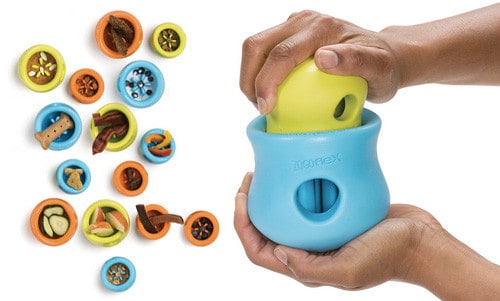 Comforting Dog Toys
While fluffy toys aren't a great fit for all dogs, they're ideal for some dogs. You know your dog's temperament best. If they're not big chewers and if they don't have overly powerful jaws, plush toys (made for dogs) may be ideal for providing comfort. You can go high-tech with a toy like the Smart Pet Love Snuggle Puppy Behavioral Aid Dog Toy. Designed to help pets weather stress and loneliness, It has a battery-operated heat pack to provide warmth and a simulated heartbeat! You can also go low-tech with an equally cuddly option like ZippyPaws Squeakie Pad No Stuffing Plush dog toy. Remember: if your toy has a squeaker or noisemaker, always monitor your pet during use.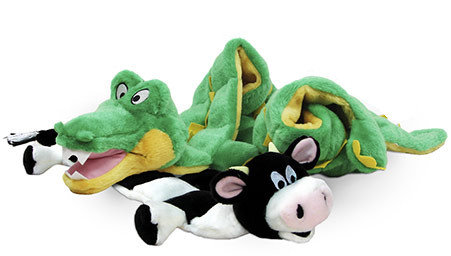 If you're a new dog owner or haven't purchased pet toys in a while, you might feel overwhelmed by the vast selection of options available. Next time you're in the neighborhood, you're welcome to stop by for some expert dog toy advice. Or call us and tell us about your pet, and we'll suggest some great toy options!
Originally published March 2017. Updated December 2018.