Doggy Daycare is more than just a play date!
In addition to the convenience and peace of mind it provides dog parents, doggy daycare also does some pretty amazing things for their dogs. Dogs who attend doggy daycare at Central Pet tend to experience a reduction in negative behaviors.
Reduces Anxiety-Related Behaviors
Relief for Separation Anxiety
Controls Destructive Behaviors,
Such as Chewing or Soiling in the Home
Boost Basic Commands While Our Staff
Work With Your Dog Each Day
Builds Confidence with Both Dogs and Humans
Reduce Social Fears and Builds Confidence
Routine Exercise at Daycare Keeps Your Dog
Healthy, Fit, and Much More Relaxed At Home
DOGGY DAYCARE =

HAPPY DAYS

Most of all, dogs who attend doggy daycare on a regular basis are just happier dogs from running around, playing with their furry friends. The physical and mental stimulation of being in a pack is something that all dogs inherently crave. They look forward to seeing their pack-mates, playing the games, getting the extra rush of dopamine, and coming home a happy, tired pup. Who wouldn't love that?
Temperament Test Required
All of our daycare dogs must complete a temperament test before entering our doggy daycare program. The temperament test is a great way to see if your furball is ready for the daycare environment! We highly recommend reviewing our doggy daycare FAQs, but if you have any additional questions about our doggy daycare services, you can reach out online or give us a call at 520-882-7577.
PEACE OF MIND

FOR PET PARENTS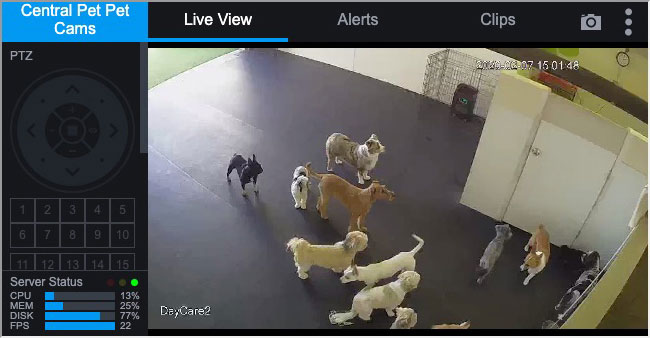 We have cameras installed throughout the daycare areas, allowing you to peek in on your pup throughout the day.
Whether you are going to work, running errands, or having work done on your home, doggy daycare is a great way to ensure that your pets get the love and attention they need while you're away. Doggy daycare at Central Pet provides a clean, safe, and structured setting that allows your dog to run and play while maintaining basic commands and working on their social skills. In addition, they'll get tons of physical and mental stimulation, which makes for a healthier and happier pup. Our staff takes pride in what we do and want you to rest easy knowing that your pet is well cared for when you drop them off with us.
Ask About Our
Events & Paw-ties!
While our doggy daycare program is already packed with fun and frolic for your four-legged friends, we regularly host special events and parties with a variety of activities and gourmet dog treats. From Football Fever and '50s Sock Hops to holiday-themed parties and birthday celebrations, you'll want to sign-up your pup so they don't miss out on any of the festivities! If you know your pet's birthday, or "adopt-iversary", let us know and we'll be sure to spoil them with a special treat and a fun game that's all about them. The best part is that all activities include a take-home gift for you; whether it's a new toy, a themed photograph, a goody basket, or your pup's arts & crafts project!