You love your dog and your time together should be enjoyable. But sometimes, going on walks with your fur baby may be more challenging than you'd like. Maybe your dog barks excessively. Or, perhaps they are anxious or aggressive in nature. It may simply be an issue of jumping, lunging, pulling, or tugging on the leash too much due to sheer excitement. Whatever the problem might be, it might be time to consider a different approach to leash-training your dog.
One popular and highly effective approach is using a Gentle Leader® headcollar, which can help owners train their dogs to walk properly on a leash in a kinder, gentler way. When Fido has good leash manners, going on walks becomes fun for everyone involved.
How the Gentle Leader® Headcollar Works
The Gentle Leader® Headcollar is designed to help redirect your dog's attention away from the distraction and back to you, the owner, by controlling his head and nose.
Straps fit comfortably over your dog's nose and across the back of the neck, which controls body movement by gently applying pressure each time they tug on the leash. As your dog pulls forward, the headcollar turns him around, because where the nose goes, the body follows.
Unlike choke-and-prong collars that could cause pain anytime your dog pulls on the leash or misbehaves, the Gentle Leader® sits high enough on your dog's neck without putting pressure on the throat. Additionally, when properly fitted, the Gentle Leader Headcollar allows him to pant, bark, eat and drink, which is not possible with traditional muzzles.
Additional features of the Gentle Leader® include:
Padded nose loop for added comfort
Constructed of soft, durable nylon material
Available in 5 sizes (petite, small, medium, large, and extra-large)
Comes in a variety of colors and patterns
Adjustable neck and nose loop, providing optimal fit
Detailed instructions and training DVD
Multiple Uses for Multiple Types of Dogs
The Gentle Leader® is perfect for keeping your dog under control for everything from daily walks to vet visits. And you can easily train your dog to heel using the Gentle Leader® plus your preferred training method.
While the Gentle Leader® fits just about every dog there is, the headcollar may not fit as well on some short-nosed (brachycephalic) dog breeds. In cases such as these, a different harness, such as our Easy Walk harness may be a more effective option for your pet.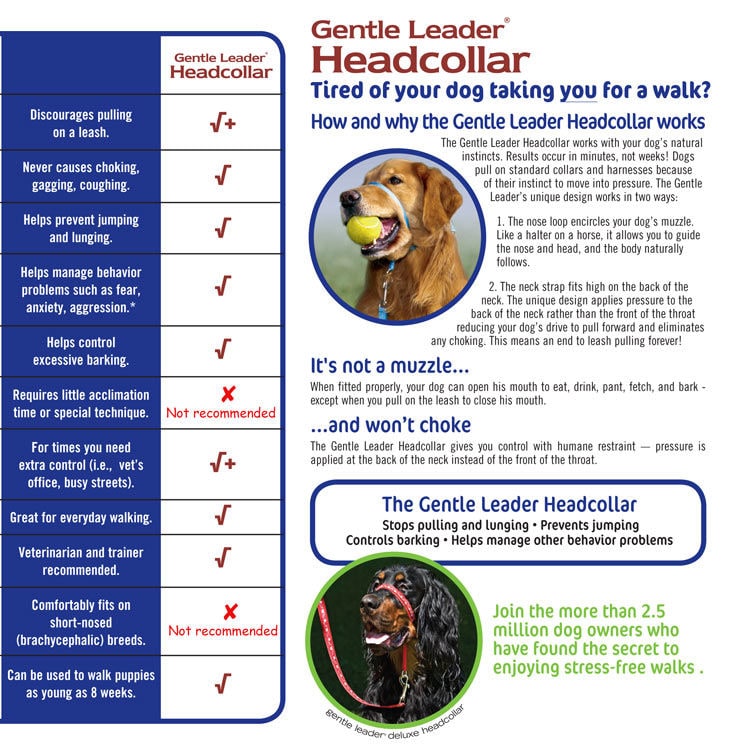 Gentle Reinforcement, Lifelong Respect
The fit and feel of a Gentle Leader® is a new experience for any dog, and the key to its success involves conditioning your dog to it. Your dog may try to remove it by shaking his head or pawing at the nose loop. Some dogs may simply lie down in protest. This is a natural reaction that may require a little time to get used to.
Start slowly and provide encouragement while doing so until your pup feels comfortable wearing the headcollar. You may even consider giving treats, so they begin to associate good things with wearing the Gentle Leader®. Some dogs will adjust more quickly than others, so give it time. The more you work with your pet, the more comfortable they will become and the more accustomed they'll be to let you lead the walks. Eventually, you'll have full respect from your fur baby, and those walks together will become stress-free.
The Gentle Leader® headcollar has been a staple at Central Pet since our beginning. Come into one of our locations in Tucson to have your pet's headcollar properly fitted. Our highly-trained staff is also available to answer any questions you may have and give guidance as you work on leash training.
---
Originally published February 2017. Revised February 2019.