Have a special dog lover in your life? Looking for a gift they'll be PAWS-itively thrilled about? You've come to the right place! We've rounded up some pretty awesome Christmas gift ideas for dog lovers, dog owners, and anyone you know who is simply passionate about dogs.
For the Dog Mom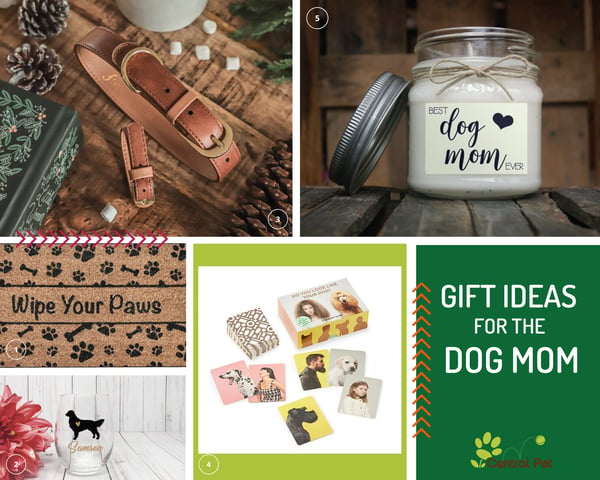 1. Doormat
Dog moms are used to messes, but that doesn't mean they don't expect you to wipe your feet when you visit. A cute doormat like this is both cute and functional!
2. Wine Glass
For the dog mom who enjoys sipping her vino in the company of her four-legged companion, check out these adorable stemless wine glasses.
3. Dog & Mom Matching Jewelry
These friendship collar and bracelet sets are just perfect for a dog mom and her furry bestie. It takes "woman's best friend" to a whole new level!
4. Card Game
Science has suggested that owners often resemble their dogs. Whether the dog lover in your life looks like her dog or not, this dog-inspired memory match game is sure to make her smile.
5. Scented Candle
Any dog mom feels as though her canine is the light of her life. To honor that, why not gift her with this super cute artisan "dog mom" soy candle? This one comes in a TON of scents and several sizes, so you're sure to find something to anyone's taste. (Personally, I think the cactus & jade scent sounds promising!)

---
For the Dog Dad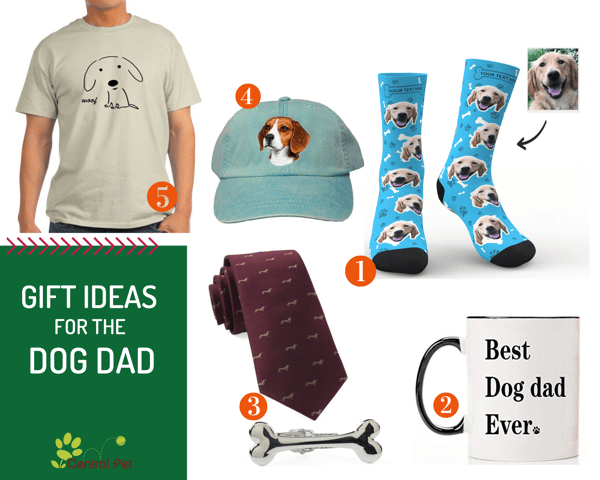 1. Custom Dog Socks
Dog socks are cool, but custom dog socks--yes, with his pooch's own face--are way cooler. And who better to sport them than the guy who considers his dog his best friend?
2. Coffee Mug
This Best Dog Dad Ever coffee mug is perfect for the guy who thinks morning coffee is best enjoyed with a four-legged company!
3. Neck Tie and/or Tie Accessory
Who says the professional can't showcase his love of dogs? This dog tie is a professional way to show love for dogs!
4. Beanie or Ball Cap
Hats off to the man who loves his dog! These embroidered beanies and ball caps from the American Kennel Club are a great gift he'll love.
5. T-Shirt
From the silly to the serious, these dog-lover t-shirts are a wonderful way for any dog dad to express his affection!
---
For the Dog Lover Who's At the Moment, Dogless
Sometimes, dog lovers can't be dog owners or aren't dog owners anymore. Perhaps you have a young child who's not quite responsible enough for a pet or a kid in college living in a no-pet dorm. Maybe you have a family member in assisted living. Or, you have a friend who has recently had to say goodbye to their beloved fur baby. Regardless of why your special someone can't (or doesn't) have a dog right now, there's no reason you can't spoil them with a special dog gift.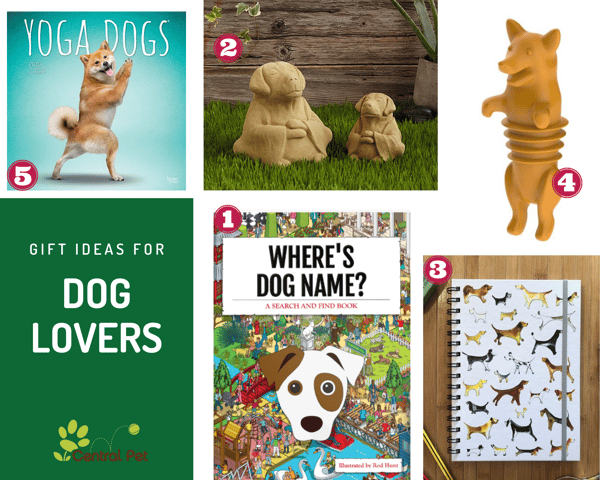 1. Dog Seek-and-Find Book
Have a little dog lover on your hands? Until the time is right, this fun book can keep them occupied! Plus, you can customize it- which is great for your students who are away from home (and the family dog).
2. Dog Garden Sculpture
A garden sculpture can be a really fun way to show your interest in something. While many sculptures are very realistic looking, others like this digging terrier and even these zen doggies, have a whimsical flair that's hard to pass up!
3. Dog Notebook
Have a friend who likes to write? Or one that just loves stationary? If so, they're sure to appreciate an adorable dog-themed notebook. There are a ton to choose from on sites, such as Etsy, but I'm quite fond of this hand drawn notebook covered in various dog breeds.
4. Bar & Wine Tools
For the dog-loving friend who appreciates all things quirky, consider gifting them with this fetching dog bottle opener or "corki" wine bottle stopper. Both are a super-fun take on classic utensils.
5. Wall Calendar
A wall calendar is such a simple, yet great gift. It's even better when you get 12 months of dog yoga (and/or puppy yoga)! Check out these various yoga dog calendars. We dare you not to giggle!
Originally published December 2019. Updated November 2020.