To us two-leggers, there's nothing quite like a tasty frozen treat on a hot summer day. Well, your dog feels the same way. And it's especially important since our pups don't sweat the way we do. So why not give them something they can indulge in? To help make bonding with your four-legged BFF this season even more enjoyable, we've compiled a list of easy, delicious, and healthy treats that can help your pooch beat the heat.
PB&J Pops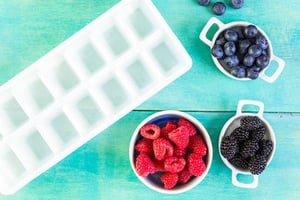 This fresh summer snack is a healthy, low-calorie treat for your peanut-butter-loving pup. Swap out strawberries for mango, oranges, or peaches. Just be sure to search for fruit options without added sugar, and steer clear of fruits like grapes, cherries, and apple seeds, as these can be toxic to your pet.
Ingredients:
water (enough to fill the pan, 2 - 8 cups)
1 c. strawberries - chopped (frozen or fresh)
½ c. peanut butter
2 tb. flax seed
Instructions:
Combine peanut butter and water until mixed. The amount of water is dependent upon the pan you are using. We recommend a bundt pan, but a bread pan or ice cube tray will work, too! For easier mixing, heat the peanut butter in the microwave for 30-60 seconds.
Add the fruit and flax seed.
Pour into container of choice and freeze for 4-6 hours.
Quick Creamy Yogurt Cubes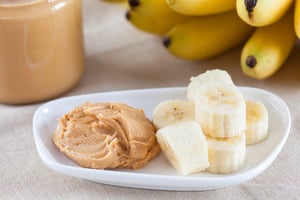 For a speedy summer snack, opt for these creamy yogurt cubes. Yogurt is high in calcium and protein and contains probiotics that also benefit your pup. Be sure to read the labels on your yogurt to avoid added sugar or artificial sweeteners that may be toxic to your pup.
Ingredients:

32 oz. of plain yogurt (no artificial sweeteners such as xylitol and aspartame)
1 tb. honey
1 banana
3 tb. peanut butter
Instructions:
Blend all ingredients together.
Pour into ice cube trays and freeze for 10-30 minutes.
Meat Treat Pupsicles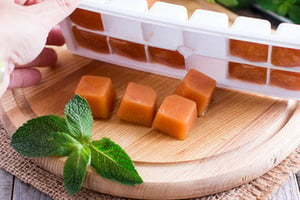 While some pups enjoy a variety of treats, others may only have a taste for meat-based snacks. These Meat Treat Pupsicles are wonderful for the picky pup and are super simple to make. Be sure to drain the fat from your cooked meat prior to mixing.
Ingredients:
2 c. cooked meat
3 tb. olive oil
1 large carrot – cooked and mashed
¾ c. plain yogurt
A pinch of finely chopped parsley (optional)
Instructions:
Blend all ingredients in blender.
Press into ice cube trays and freeze for 2 hours.
Other Frozen Goodies For Your Dog to Enjoy
In addition to the treats listed above, here are some other ideas that can keep your pooch cooler during these dog days of summer:
Frozen dog biscuits: Freeze your dog's favorite dog biscuits in a container of water. He or she will enjoy licking and chewing at the ice until the biscuit is freed.
Frozen watermelon: Watermelon is a simple and healthy treat your dog can enjoy. Cut it into cubes, remove the seeds, and freeze. That's it!
Frozen wet food: Freeze some of your dog's favorite wet food in an ice cube tray. It's a fun spin on an everyday meal!
Frozen toys: Freezing your dog's favorite chew toy in broth can keep your furry friend entertained for hours!
Fruit and veggie cubes: Dogs like fruit and veggies too! You can either freeze pieces of fruit and/or veggies with water in ice cube trays or freeze a puree. Your pooch will love crunching each cube to get to the tasty center. Check out what the American Kennel Club has to say regarding dog-approved fruits and veggies.

Remember, these treats are meant to be just that -- treats. They are not meant to be a substitute for your dog's regular diet. Every pet is different, so if you have any dietary concerns, it's a good idea to consult your veterinarian.