In today's world, if you have a need, chances are there's an app for that--even for your four-footed friend. And why not?
According to the American Society for the Prevention of Cruelty to Animals (ASPCA), it is estimated that 78 million dogs and 85.8 million cats are owned in the United States. Therefore, it only makes sense that there's technology readily available to make life with pets more engaging, satisfying and less complicated.
After sifting through hundreds of pet-related apps, we've come up with a handful that stood out from the rest based on cost, purpose, functionality, and design. Take a peek at some of the apps you probably didn't know you needed.
Apps for Pet Emergencies
1. Pet First Aid - Red Cross
By American Red Cross
Cost: Free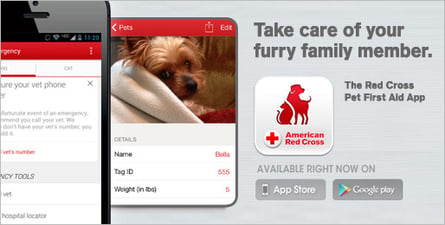 Take care of your furry family member. The American Red Cross Pet First Aid app puts veterinary advice for everyday emergencies in the palm of your hand. Get the app and be prepared to act when called upon. With videos, interactive quizzes, and simple step-by-step advice, it's never been easier to know Pet First Aid.
2. Animal Poison Control Center (APCC)
By ASPCA
Cost: Free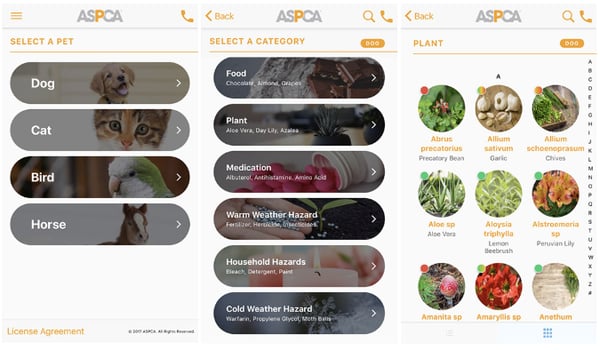 APCC is a handy app that helps owners quickly identify over 300 potential things that could be toxic to your dog, cat, bird, or horse. Did your pet eat chocolate? A poisonous plant? Your medication? The APCC app has answers to those questions like these and many more. Details for each toxin, information about the severity of the problem, and critical next steps are just some of the highlights of this useful app. The app also offers access to APCC online resources, information regarding ASPCA events, and one-touch speed-dialing to the ASPCA Animal Poison Control Center--all of which can give any pet owner more confidence about being prepared for a potential emergency. A great tool for every pet owner.
Pet Monitoring Apps
3.

Dog Monitor: Puppy Video Cam

By Tappytaps
Cost: $5.99

Easily monitor your pets while you're away from home with Dog Monitor. Utilizing your mobile device and a secondary phone or tablet, you can check in on your pet throughout the day, get notifications when your pet barks, communicate commands, take photos and track activity along with a slew of other options that are too great to list here. A must-have for the techy pet owner.
4.
Furbo: Treat-Tossing Dog Camera
by Tomofun
Cost: Free app download with product purchase (prices vary based on retailer)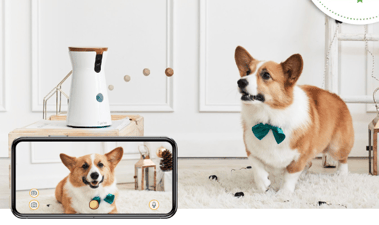 Have to be away from your precious pooch all day? The Furbo app has you covered. Combined with the Furbo device, pet owners are able to care for, interact with, and train their four-legged friend in a revolutionary way. Furbo lets you monitor your pet, alerts you when it detects barking, and allows you to snap photos or record videos that can be easily shared with friends on social media. You can even have your Furbo device toss out treats to your faithful companion from anywhere via the app!
5. Whistle - Pet Tracker
by Whistle
Cost: Free app with Whistle GPS Pet Tracker purchase ($79.95) and monthly subscription fee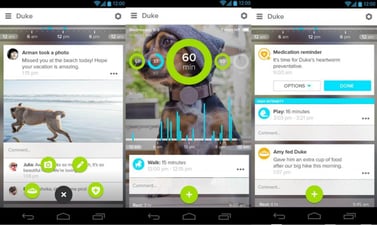 While the additional Whistle GPS tracker is a small chunk of change, it's ability to save your pup makes it well worth it! Does your dog like to break free any chance he gets? Keep tabs on him 24/7 with the Whistle app, our pick for best dog monitor app. The app is free, but you have to purchase what is essentially a GPS monitor that fits onto his collar. With Whistle, you'll be able to track your dog's activity and behavior. And Whistle also serves as a daily timeline so you can add notes and photos, as well as log food and medications.
For the Active Pet and Pet Parent
6. FitBark
(Health & Fitness) by FitBark
Cost: Free app download with device purchase ($69.95)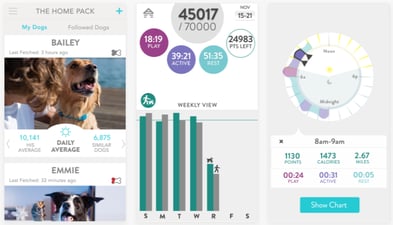 FitBark is dedicated to getting you and your pet healthy together in a fun way. By attaching the FitBark device to your dog's collar, you can monitor activity levels, quality of sleep, distance traveled, calories burned, and overall health and behavior 24/7. Additionally, FitBark can be linked to your own personal health and fitness tracker (Fitbit, Apple Healthkit, Google Fit device, or smartphone) so you and your pet's progress can be tracked side-by-side. What an awesome way to stay motivated! FitBark even allows you to share your dog's information with your trainer or veterinarian so they can always be in the know regarding any health changes in your pet.
Originally published August 2018. Revised February 2022.